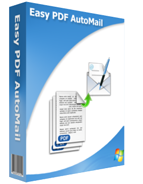 $49
Easy PDF AutoMail
Accurately recognize inner email content and email PDF!
Automatically detect email content like recipient address and subject within PDF file and email.
Batch process a number of files at the same time.
Manually edit eamil rule with preview function.
Email through either current email application or SMTP Internet E-mail Server.
Apply security and watermark on processed documents.
Free TrialBuy Now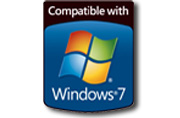 For Windows 98
or above
Why Use?
Details
Screenshot
How It Works
Have you ever wanted to have PDF file whose content contains recipient email address emailed, and you wouldn't like to get address manually? Easy PDF AutoMail would provide you best solution, and bring you great satisfaction. This is a powerful utility program, allowing to extract email information such as recipient mail address and subject from the PDF file you want to mail and sending PDF file at extracted address.
1. Powerful functions

• Extract recipient email address from PDF file and sent PDF file automatically.
• Automatically recognizes email content within the PDF file and extracts to 
   generate recipient address, CC(Carbon copying) and BCC(blind carbon copy), 
   even subject.
• Allows to edit mail information like address, subject, message, even 
   attachment manually.
• Matches recognized mail address with data of selected CSV spreadsheet to 
   avoid sending to the wrong address.
• Generates message log to record user's operation for query.
• Two methods selectable to send Email message: current email application and 
   Internet Email Server(SMTP).
• Supports either edit manually email information like address and subject, 
   or configure rules to generate email information automatically.
• Supports password security and add watermark in text or image format.
2. Convenient

• Accurately identify email content within PDF file to generate email 
   information.
• With real-time preview window, user can edit rules intuitively to extract
   mail information.
• Batch process various files at the same time with great efficiency.
• Modify email information through preview window.
3. Flexible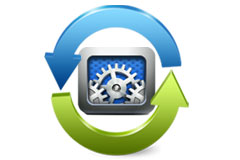 Easy PDF AutoMail is actually a flexible product, allowing you to extract email information from PDF files and send PDF files automatically with multiple alternatives. Rich options allow you to accomplish your business freewheelingly, and much practical features like security and watermark are included too.
4. Easy to use and greater efficiency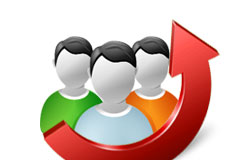 Easy PDF AutoMail is really easy-to-use, it provides a visual extraction rule editor which allows you to intuitively define rule for email with flexible tags and macro parameter. Also it is quite efficient, can deal with a large number of PDF files at the same time with minimum consumption of time.
5. Affordable
To bring our customers greater satisfaction in both function and price, although our product is both powerful and efficient, it is cheap compared with other companies' products. And it requires no any other programs, such as Adobe Acrobat Pro which costs hundreds of dollars.
6. Free trial and upgrade
Not sure whether our product works for you, you can download a trial version for free before you buy. As our products will upgrade continuously for perfection, your version might go behind the time. You can download the latest version of our product when it upgrades, and your license code is valid forever.
7. 30 days money back guarantee
To protect your equity, we promise our customer an unconditional full payment back guarantee. If our product do not satisfy you completely, you can send your refund request to our support center within 30 days since your order took effect. And we will dispose of your request as soon as we can.
Details
1. What is AutoMail Rule (Content Tag Marco)?
AutoMail (Content Tag Marco) Rule defines text (usually be mail to address, such as demo@mail.com) position information within the sample PDF. Easy PDF AutoMail according to the rule to search for text, compare text and then extract the text as email address for you automatically.
2. Two methods to get email information
You can input mail address, CC, BCC, subject, message and add attachment manually. Or with macro, automatically generate email address, CC, BCC, subject and message.
3. Two methods to email
There are two methods selectable to perform emailing after you finish editing email information, you can use either current email application(Microsoft Outlook and so on), or SMTP(Simple Mail Transfer Protocol ) Internet E-mail Server to send your PDF files to certain email address.
4. Security and watermark
To protect data security, 2 types of security levels are available to setup password:
Low(40-bit; supports Acrobat 3.0 and above)
high(128-bit; supports Acrobat 5.0 and above)
Enable to append watermark in both text and image format.
In text format, you can customize text properties like font, size, color, layout, etc. Text effect, page range to mark , link and date-time are supported too.
In image format, you are allowed to modify properties like width, height and margin, as well image effect, page range to mark and link.
5. CC and BCC
Carbon copying, abbreviated cc or c.c., is the technique of using carbon paper to produce one or more copies simultaneously during the creation of paper documents. With the advent of email, the term has also come to refer to simultaneously sending copies of an electronic message to secondary recipients.
In the context of correspondence, blind carbon copy (abbreviated BCC) refers to the practice of sending a message to multiple recipients in a way that conceals the fact that there may be additional addressees from the complete list of recipients. This concept originally applied to paper correspondence and now also applies to email.