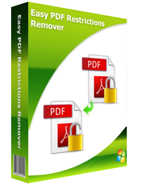 $9.9
Easy PDF Restrictions Remover
Extremely convenient and impressive tool to unlock PDF!
Remove PDF password protection so as to open, edit, copy or print.
Compatible with almost all versions of Adobe Acrobat and Windows OS.
Right-click integration for convenience.
Remove 40/128-bit RC4, 128-bit AES encryption.
Free TrialBuy Now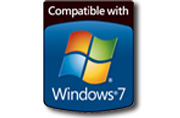 For Windows 98
or above
Why Use?
Details
Screenshot
How It Works
PDF as one of the most popular file formats is widely used in business, education and so on, however sometimes those files are password protected to prevent from being printing, editing or copying, which might have disabled you to accomplish your business. Luckily, Easy PDF Restrictions Remover now provides you an easy way to remove those restrictions from PDF, and you will find can't be easier.
1. Powerful functions

• Quickly auto removes password with password pool.
• Unlock PDF files so as to open, edit, copy and print.
• Remove multiple encryption algorithm: 40/128-bit RC4, 128-bit AES.
• Simply right-click target PDF files under Windows explorer and select 
   to remove.
• Either append .BAK to existing extension or backup original files to 
   appointed directory.
2. Easy to use and greater efficiency
This impressive utility program is such powerful and easy-to-use, what you should do is to click your mouse at a few times. With Easy PDF Restrictions Remover, you just right-click the encrypted PDF file in the Windows explorer, then select "Remove Restrictions" or "Remove Restrictions & Save as" in the context-sensitive menu that pop up. In a wink, you can get PDF file with restrictions removed.
3. Compatible
Easy PDF Restrictions Remover is a standalone program, requiring no other software to support, and it can work under almost all Windows systems, including Windows 98,ME, NT, 2000, XP, VISTA and 7. Also it supports remove restrictions from PDF files which are up to Adobe 9 version.
4. Affordable
To bring our customers greater satisfaction in both function and price, although our product is both powerful and efficient, it is cheap compared with other companies' products. And it requires no any other programs, such as Adobe Acrobat Pro which costs hundreds of dollars.
5. Free trial and upgrade
Not sure whether our product works for you, you can download a trial version for free before you buy.
As our products will upgrade continuously for perfection, your version might go behind the time. You can download the latest version of our product when it upgrades, and your license code is valid forever.
6. 30 day money back guarantee
To protect your equity, we promise our customer an unconditional full payment back guarantee. If our product do not satisfy you completely, you can send your refund request to our support center within 30 days since your order took effect.
Download Easy PDF Restrictions Remover for Windows and have a try, It's free. If you have any problem, feel free to Contact Us by email:support@easy-pdf-tools.com. Tell us about your question and design needs, we will be glad to help you solve the problem and you will be on your way to being a PDF expert.
Details
Easy PDF Restrictions Remover is more powerful program for you to remove PDF password. You will easy handle and use the wonderful features below:
1. Password pool
Password pool is the key feature to remove restrictions from PDF. User can manually add numbers of possible passwords to password pool for decryption. With the passwords in password pool, software will automatically remove PDF password or restrictions so that can print,edit or copy the PDF files.
Note: If you absolutely have no idea what the password is, Easy PDF Restrictions Remover won't works for you. And you may need other software to crack.
2. Encryption algorithm
Though Easy PDF Restrictions Remover is a powerful tool, it can't do every job for you. Easy PDF Restrictions Remover can only works to remove restrictions from standard password protected PDF files that are encrypted by following encryption algorithm:
40-bit RC4 encryption
128-bit RC4 encryption
128-bit AES encryption
3. Settings
To backup file when remove restrictions, there are 2 modes selectable. Software supports either automatically append .BAK to existing extensions or backup to specific directory.
Create/remove context-sensitive menu.