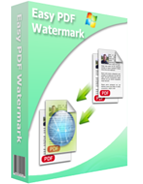 $35
Easy PDF Watermark
Professional software to design and append watermark to PDF with ease!
Batch add watermarks to PDF files with great efficiency.
Multiple types of watermarks available.
Self-define watermark with regards to font, size, color and so on.
Intuitive interface and simple operation.
Packed with varied practical and impressive features.
Free TrialBuy Now
For Windows 98
or above
Why Use?
Details
Screenshot
How It Works
Easy PDF Watermark is an advanced but easy-to-use desktop program, it help to add visual image or text watermarks (such as DRAFT, CONFIDENTIAL, even your company's name and logo) to either a single Acrobat PDF file or a batch of files. Software provides multiple options to create watermarks to mark documents as your copyrighted property in a few steps. More functions like print, mail and FTP settings are included. Easy PDF Watermark also supports to show watermark only when printing, and hide when viewing.
1.Power functions



• To customize visual watermarks and stamp on PDF files.
• Enable to batch add watermarks to a large number of PDF files with ease.
• 5 types of watermarks are available, including text, image, PDF, shape and 
   Dynamic Datetime.
• Customize watermark styles like size, opacity, margins and position.
• Supports work with command line and hot directory.
• Allows to stamp all pages or only specific pages range like odd/even pages.
• More practical options like security, print, email and FTP are available as well.
2. Convenient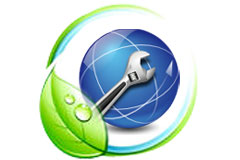 • Supports drag and drop to add PDF file for watermark.
• Import & export watermark for re-usage.
• Various built-in templates are selectable to add watermark quickly.
• With real-time preview, to design watermark intuitively.
• Supports directly email output file, deliver to FTP server or print after
   watermarking.
3 Compatible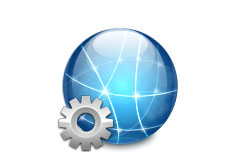 Easy PDF Watermark is a standalone program, requiring no other software to support, and it can work under almost all Windows systems, including Windows 98,ME, NT, 2000, XP, VISTA and 7.
Software supports PDF file in any Adobe Acrobat versions.
4. Easy to use and greater efficiency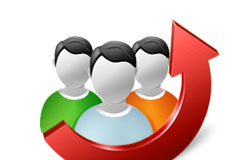 Easy PDF Watermark is easy-to-use utility program, packed with many practical watermark templates that you can select to quickly build watermark. Also it provide simple operation for you to create new watermark and define how to stamp with ease. Moreover Easy PDF Watermark work at an impressive speed, it can process even thousands of pages in seconds which greatly save your time.
5. Affordable
To bring our customers greater satisfaction in both function and price, although our product is both powerful and efficient, it is cheap compared with other companies' products. And it requires no any other program, such as Adobe Acrobat Pro which costs hundreds of dollars.
6.Free trial and upgrade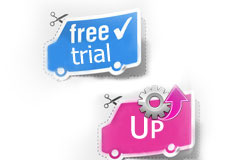 Not sure whether our product works for you, you can download a trial version for free before you buy.
As our products will upgrade continuously for perfection, your version might go behind the time. You can download the latest version of our product when it upgrades, and your license code is valid forever.
7.30 days money back guarantee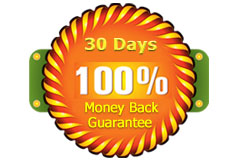 To protect your equity, we promise our customer an unconditional full payment back guarantee. If our product do not satisfy you completely, you can send your refund request to our support center within 30 days since your order took effect. And we will dispose of your request as soon as we can.
Details
1.Hot directory mode
You can choose either batch mode or hot directory mode according to your need. Under hot directory, as long as detecting the files are saved in the monitored folder, they would be stamped automatically with the original files being moved to backup directory.
It also supports start software with hot directories mode by using "/H parameter"(hybrid parameter).
2. Customization
User can completely customized text watermark with regards to font, color, size.Also can change the position of either text or image watermark as user's need.Besides printing all pages, you can select specific page range for printing.
3.Practical settings
Page ranges- Customize page ranges for watermarking, such all pages, odd/even pages and appointed pages.
Security- Apply 40/128-bit encryption to avoid unauthorized access and restrict permission like copying and printing.
Print- Enable to setup print PDF association and define specific page range for printing.
Mail and FTP- With pre-set email or FTP address, you can automatically email or transfer watermarked PDF file to appointed FTP server.
4. Output options
Watermark and save- Simply watermark PDF file and save it.
Watermark(only show in printed file)- Show watermark only when printing, and hide when viewing.
Watermark(hide when print out)- Show watermark only when viewing, and hide when being printed out.
Watermark and mail- Auto email the processed file after watermarking.
Watermark and print- Auto print the processed file after watermarking.
Watermark and FTP- Auto transfer the processed file to FTP server after watermarking.
5. Command line
Command line which works as Windows console utility is included to support insert pre-generated watermark to PDF files.
usage:
PWMCMD.exe <input file> [-S<password>]
<watermark name|watermark file> [-O<Output File Name>]
Return code:
0: Success
2: Input file does not exist
3: Load Input file failed
4: Output file error
5: Some watermark not found
6: No watermark list
7: Create Output file failed
8: Load watermark list fail
Example:
1. PWMCMD c:\pdfs\doc.pdf "Text - FINAL"'
2. PWMCMD c:\pdfs\doc.pdf "FINAL" "Com Logo" -O"c:\pdfs\out.pdf"'
3. PWMCMD "c:\pdfs\doc.pdf" "C:\Watermark\doMark.wm"
-o"c:\pdfs\out.pdf"
MEMO: "Text - FINAL" is a watermark item defined by A-PDF
Watermark GUI(PDFWM.exe), you can display all watermark
items by Using Command: PWMCmd.exe -list