$27
Easy PDF N-up Page
Professional software to print multiple pages on one sheet!
Standalone software requires no Adobe Acrobat.
Either 2-up or 4-up pages to rearrange pages for PDF booklet.
Array pages in particular order to produce booklet with pages in proper order.
2 types of print modes: single side and double side.
Batch processing at the same time with great efficiency.
Free TrialBuy Now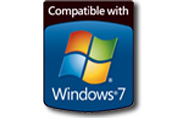 For Windows 98
or above
Why Use?
Details
Screenshot
How It Works
Have you ever want to print a PDF document in booklet form(print multiple pages on one sheet), to make it look more like an actual book or booklet? Or perhaps you wished to print 2 pages(or 4 pages) per sheet to save paper. This is what Easy PDF N-up Page would do for you. Easy PDF N-up Page is such a professional and extremely-simple utility program, assisting you to create N-up(2-up or 4-up) imposed PDF file in only a few steps. This software allows you to rearrange pages in a PDF file with multiple options to make a book, booklet or special arrangement.
1. Powerful functions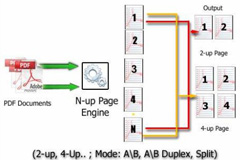 • Aims to create a PDF with specific imposition layout(in booklet form). 
• 2-up or 4-up layout mode can be chosen(means that you can place 2 or 4 
   pages on a single sheet)
• Orders pages with different layout modes(4 types) so that you can get a 
   booklet with pages in proper order when printed and folded.
• 2 types of printing modes to meet per need: single side and double side
• Process only specific page range: odd/even pages, selected pages.(In other 
   words, you can place only odd page side by side in order.)
• Define page size with original size, scaling or fitting to selected page size.
• Supports rotate odd/even pages or all pages before combination.
• More page formats such as horizontal, vertical, gutter, OMR mark, margin and 
   barcode and so on are available.
2. Convenient

• Batch process with great efficiency and without size limited.
• Real-time preview of different output formats
• Add PDF file by drag and drop directly.
• Multiple practical options facilitate you to create your own makeup style.
• Import & export common files list for reusage.
3. Flexible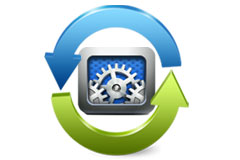 Software provides varied options enabling user to customize pages layout. 2-up or 4-up alternative to design output file in booklet form. And allows to re-order pages based on different print modes to make sure the output file pages in proper order. Moreover extend page settings like gutter, OMR mark and margin can be applied according to per need.
4. Easy to use and greater efficiency
To create document in booklet form won't be a difficulty any more if you choose Easy PDF N-up Page. There are so many practical setting options included in this software, what you do is to select from them according to your need and click to start processing. Just in a few steps you can get the booklet you want. And you never need to worry about time consumption, because Easy PDF N-up Page is also characterized by its great efficiency.
5. Affordable
To bring our customers greater satisfaction in both function and price, although our product is both powerful and efficient, it is cheap compared with other companies' products. And it requires no any other programs, such as Adobe Acrobat Pro which costs hundreds of dollars.
6. Free trial and upgrade
Not sure whether our product works for you, you can download a trial version for free before you buy. As our products will upgrade continuously for perfection, your version might go behind the time. You can download the latest version of our product when it upgrades, and your license code is valid forever.
7. 30 Day Money Back Guarantee
To protect your equity, we promise our customer an unconditional full payment back guarantee. If our product do not satisfy you completely, you can send your refund request to our support center within 30 days since your order took effect. And we will dispose of your request as soon as we can.
Download Easy PDF N-up Page for Windows and have a try, It's free. If you have any problem, feel free to Contact Us by email:support@easy-pdf-tools.com. Tell us about your question and design needs, we will be glad to help you solve the problem and you will be on your way to being a PDF expert.
Details
Easy PDF N-up Page is more powerful program for you to create PDF booklet which can print multiple pages on one sheet. You will easy handle and use the wonderful options below:
N-UP mode:
2-up- combine 2 pages to a single page sheet.
4-up- combine 2 pages to a single page sheet.
Arrange pages horizontally or vertically.
Mode of order
A/B: Arrange pages in common order
A/C: Arrange pages order at one page interval on per sheet.
Split: split one PDF as some units, then N-up these units accordingly and merge into one PDF. First-last: arrange at a particular order so that when printed and folded you can get booklet with proper order.
Extended page settings
Gutter- can be set with customized size between pages which are imposed on the same sheet.
Margin- supports user-defined margin size on top, bottom, left and right.
OMR mark- A special mark can be arranged at specific page range and any position of page with user-defined size.
Barcode- supports modify barcode value with macro parameter, and can be placed at any position on the pages with user-defined siz.

Page parameters

There are 3 types of page sizes available:
Remain original size- to create PDF files with page size of processed file.
Scaling- user can define actual parameters for width and height as per requirement.
Fit to page size- adjust pages with size selected from size table.

Page range

To meet every requirement, customized page range to be processed is available. With Easy PDF N-up Page, you can N-up all pages, odd/even pages or only pages selected by yourselves. Also you can merge all PDF file to one file when doing N-up.

Page rotation

Software also supports rotate pages before doing N-up with angle at 90, 180 or 270 degree. You can rotate all pages or only odd/even pages.