Create Gorgeous Interactive Flipping Books to Engage Your Audiences
Get tired of slide after slide of pure text - wanna flip pages like what you do when reading a printed book? Then try FlipHTML5! It is a stunning flipping book maker, serving to create great-looking digital books with page flipping effect. Unlike traditional printed versions, digital flipbooks are capable of engaging audiences with interactive and animated elements. Here is a demo made with FlipHTML5, through which you will find how gorgeous an interactive flipping book is.
Digitize PDFs to Flipbooks
With FlipHTML5, you can feel easy to digitize your PDF. Simply import your static PDF, and in a few seconds a page flipping book can be created, with no need for coding skills. The 3D page turning effect, the book thickness and drop shadow, along with flip sound make your flipbook not only look but sound like a realistic paper book.
To give an eye-catching outlook for your flipping book, FlipHTML5 provides a huge selection of templates and themes. You are free to pick a local one or online; otherwise, you are capable of designing a unique one by changing the background image, customize the toolbar or something like that.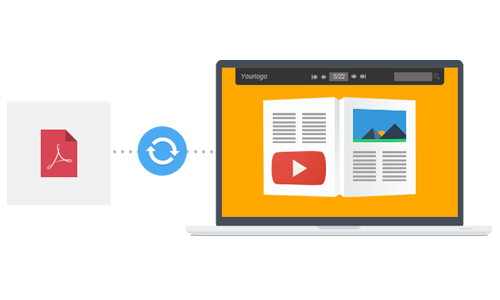 Enrich Content with Interactive Media
It is not captivating enough for audiences to read on a text-heavy eBook. Audiences now prefer to read eBooks with rich contents, like video and audio. FlipHTML5 can do you a favor to create such interactive eBooks. You are empowered to inject life into your flipping book with links, slideshows, and videos etc. These interactive media will bring lots of enjoyment to eyes and ears, giving your audiences a fantastic different reading experience.
Activate Media with Animation Effects
Now you have ability to bring all the excitement of the digital world to your flipping book. With FlipHTML5, you are able to activate the embedded media by adding animation effects. What's more, you have complete control over when and how the media come in and go out, and how long they stay on the page.